Did Your Glasses Break Or Do They Need To Be Adjusted? No Problem!
All that we ask is that you bring your glasses in so we can take a look to see what needs to be fixed. Can you name another profession that offers FREE repairs, FREE cleanings, and FREE adjustments as well as the equipment to clean them with? 
Since these repairs, cleanings, and adjustments are often totally free, we ask that if you just stop in that you are patient as we may be assisting other patients. It does take time for us to do repairs or adjustments, so if you need to drop them off, we will be happy to call you when they are ready. We will always do our best to accommodate your needs.
Price Eye Care offers adjustments and cleanings for glasses purchased through Price Eye Care. We even offer free refills to your lens cleaner and replacement cloths. We can often repair your glasses in house at no cost as well. We want you looking and seeing your best! This is part of our customer service that we feel goes above and beyond. 

Learn About Your Warranty
Frame warranties are limited and only cover manufacturer defects. No accidental damages. Normal wear and tear are not covered. If you bring it in, we will repair it to the best of our abilities.
Lens warranties are for a limited time. They depend on the lens options you chose and may also depend on your insurance. 
How To Keep Your Glasses Good As New
Clean your lenses with the glasses cleaner and microfiber cloth that we have provided to you, or you may use water and a 100% cotton cloth.
Store your new glasses in a case or face up on a flat surface to avoid damage.
Do not use a glass cleaner such as Windex. These products will harm your lens coatings.
Do not use any paper products on your lenses (paper towels, Kleenex, or bath tissues.) These are all made of wood and will likely scratch your lenses.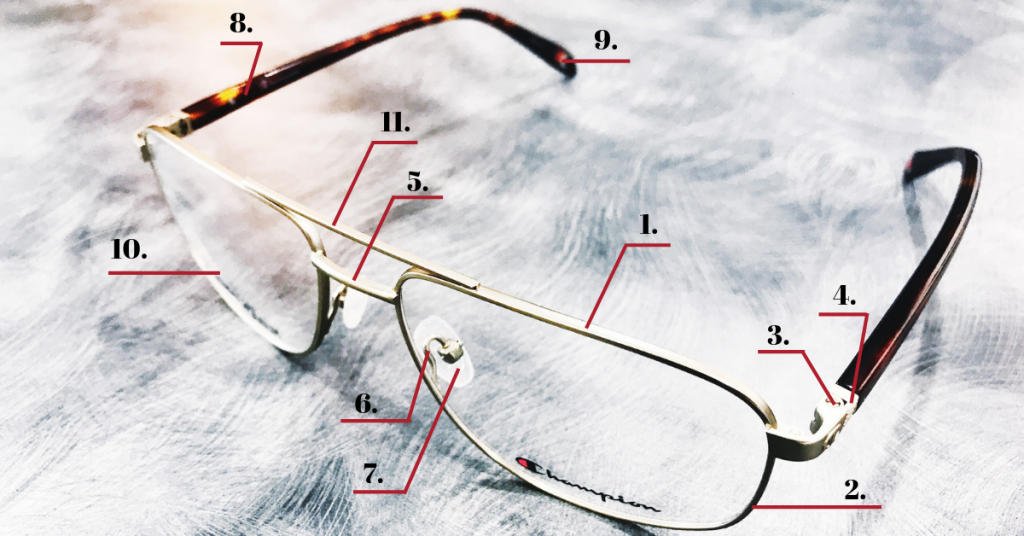 Frame
Rim/ Eye Wires
(Semi Rimless/String)
Screw
Hinge
Bridge
 Pad Arms
Nose Pad
Temple
Temple Tip
Lenses
Double Bar